Sudbury Karate Club News

This page is updated on a regular basis
The next Brown/Black belt gradings will take place on Sunday14th April 2019, please make sure you are aware of the policy for grading requirement, if you intend to take your grading. In addition please ensure that your senior instructor is aware that you want to take your grading and that Sensei White is informed.
Prestigious Awards Presented - April 2018
Trevor White began martial arts training in 1975, later forming SEFKA in 1984. He has devoted his time, effort, knowledge and enthusiasm in the promotion and teaching of Karate to countless students. He is responsible for numerous Black Belts and Kumite champions plus been a true ambassador for SEFKA and martial arts generally. Trevor has led the association by example, which shows in the high quality senior instructors panel that he has developed over the years.
On the 8th April 2018, at the senior grading this dedication was recognised with the presentation of Trevor's 8th Dan Black Belt and the title of Grandmaster. A more deserving candidate for such award would be extremely hard to find, it is truly well deserved.
October 2018 - Senior Grading Results
The senior grading took place on Sunday 14th October 2018, at Gt Cornard Sports Centre, the following grades were awarded:
To 6th Dan Black Belt
Calum Kennedy
To 3rd Dan Black Belt
Dan Sadler & Emile Du Toit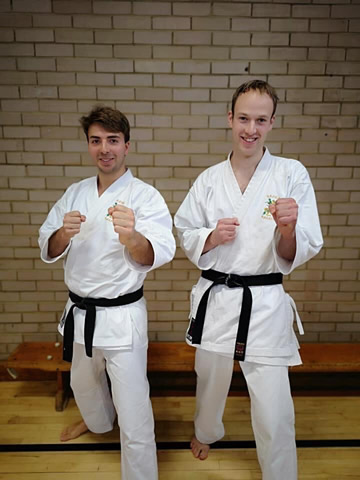 Emile & Dan
Congratulations and well done.
SEFKA Chairman and Chief Instructor Trevor White has issued the following update, which takes immediate effect for senior Gradings (2nd Kyu to 3rd Dan)
All persons grading at a senior grading who are 18 years old and under will be required to perform all applicable kicks at head height.
Those over 18 will be expected to perform their kicks at the maximum height they can kick, but in all cases the height will be above belt height.
Exception to these requirements will be that the student is unable to perform the requirement due to injury, incapacity or other genuine reason. This must be highlighted to your senior instructor prior to the grading, so the panel are aware and can take it in to account.
February 2019 Club Grading Results
Congratulations to all those successful students in today's club grading, well done everyone a very good grading all round.
To Yellow Belt 9th Kyu
Nola Swain, Olly Stalker, Daniel Marris, Luke Miller & Joey Marris
To Orange Belt 8th Kyu
Ethan Summers & Darcey Garratt
To Green/ White Stripe Belt 7th Kyu
Liliana Smith & Theo Hutchinson
To Green Belt 6th Kyu
Helena Bulacz
To Blue/ White Stripe Belt 5th Kyu
Oliver Sharp & Logan Brooksbank